One of the many wonderful opportunities for pianists at CSI is participating in Piano Duets class. All pianists who are in Suzuki book 2 and beyond and who are reading music are eligible to take this class. However, piano students must fill out the piano duet class reservation form by April 1 in order to be placed into a piano duet class as part of their core curriculum. 

In the words of our fabulous piano faculty member Gail Gebhart, here's why you should make Piano Duets a part of your institute experience:
"Duets are fun!!  Pianists seldom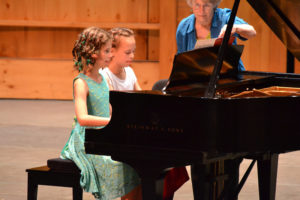 have group or ensemble experience at a young age. In duet class, students have the opportunity to collaborate with another to create beautiful music. Rhythm and dynamic skills are enhanced as well as the ability to maintain a steady tempo. Students take new responsibility for their music making because their partner depends on them.  Really, it is just a blast to play a song on the piano with somebody else."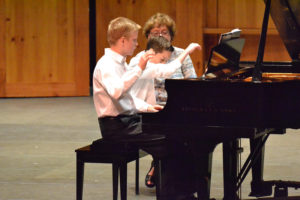 A chance to learn new music, strengthen and expand your musical skills, AND have fun playing with other pianist friends–what more could you ask for? Reserve your spot today!